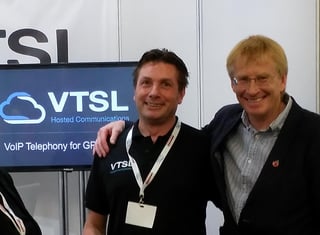 The VTSL team had lots of visitors at the Management in Practice event at Kensington Olympia last Tuesday, but perhaps the best known was doctor, comedian and commentator, Dr. Phil Hammond. Dr Phil is the author of numerous popular books and TV programmes including What Doctors Really Think...16 Years of Wit, Wisdom and Lies and Trust me I'm a Doctor. His latest book, Staying Alive – How to get the best from the NHS – is full of inspirational stories from patients and carers glued together with his own reflections of working in, thinking about and investigating the NHS over 30 years.
"It was a great day, with an excellent turn out and lots of interest. The event is superbly organised and attracts lots of key individuals within the GP Practice sector, including Dr Phil!" said Lee Zweig, from VTSL. "It was a real treat to have him come by."
The event is considered the event for GP Practice managers and anyone in the medical practice management sector. Each year it showcases successful GP Practice managers who have improved the efficiency of their practices. Industry leaders advise on how to address the biggest challenges facing practice managers today and outline the exciting opportunities on the horizon. And through the expert speakers and workshops, visitors are updated on the latest developments in policy and technology.
VTSL was there meeting practice managers interested in upgrading to a hosted VoIP phone system. VTSL's system is ideal for practices wishing to improve patient access, lower costs, and do more with less. Plus with its easy-to-use phones and intuitive online management portal, GP managers don't have to worry about a hectic transition to a new telephony provider.
"It is just a matter of making GP Practices aware of what is available," said VTSL Sales Director, Tom Goldsworthy, after the event. "Many don't know something like the VTSL system even exists, or think it is too expensive and difficult to switch to. Our goal today was to make Practice managers aware that they can have it all - a fantastic system with features like call queues, auto-attendants and advanced reporting, intuitive phones and free support, all for a low per user monthly cost."
VTSL offers a comprehensive service for GP practices in need of a telephony upgrade. From the initial consultation, to number porting, to the free training once everything is installed, the VTSL team ensure that the transition to a new phone system is a seamless one.
For more information on VTSL's phone systems for GP Practices, please email info@vtsl.net, or call us today.