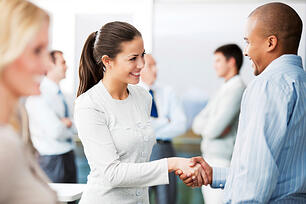 We are excited to announce the launch of the Refer & Earn Programme, a new referral scheme designed to provide no hassle, quick rewards for those who refer friends to VTSL.
Referrals are rewarded with a £20 Amazon gift voucher if there is a qualified requirement. If VTSL wins the business, you receive another gift voucher: £150 for up to 15 phone users, and £300 for 16+ phone users. The referred business can be anywhere in the UK or Ireland and the vouchers are good for up to a year to spend on anything at Amazon!
Referrals have been at the core of VTSL's growth since the company launched its Associates Programme 5 years ago. As CEO, Rob Walton says:
"The Associates Programme was a phenomenal success for us, but it wasn't particularly easy for an individual to get rewarded; it was really designed for companies. With Refer & Earn, it couldn't be easier for any person to get rewarded... you just have to email us the name of someone who may need a new phone system. As soon as we qualify that lead we will email you a gift voucher for £20 within 72 hours. And if we win the business, you'll get another voucher - a much bigger one."
The beauty of the VTSL programme is its simplicity. Sending the name of someone you think may need a new business phone system is as easy as filling out the form here, or emailing referrals@vtsl.net. With vouchers being sent to you within 3 days, you aren't left waiting weeks for your reward; you can get shopping straight away. Good timing given the countdown to Christmas has already begun!
For more information on the new Refer & Earn programme please click below or give us a call on 0333 405 0000.