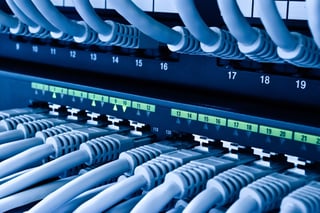 VTSL, the leading hosted business phone system and VoIP provider, has recently launched a structured cabling service, enabling it to provide one-stop business VoIP solutions.
Most VoIP providers require customers to hire a separate company for structured cabling needs. But with time usually of the essence, and dealing with multiple providers cumbersome, VTSL decided to introduce a voice and data CAT 5 and CAT 6 cabling service to make life easier for clients. The service is designed to be just what busy businesses need: reliable, cost effective and executed with the greatest care so the office working environment is not disrupted. VTSL's experienced electricians are able to perform underfloor installations, use existing trucking or find creative solutions as needed. They are also able to install power sockets, so that new desks have both the connectivity and power access they need.
VTSL's electricians are experienced, fully trained and certified. They are also quiet, tidy and will respect employees' working areas. The VoIP provider uses only the highest quality cable and component products from Excel, which are covered by 25 year manufacturer warranty. Moreover, they offer a fast-track option for urgent cabling requirements.
Free site surveys allow VTSL to ascertain exactly what the requirements are and the cabling options available.
Why do you need structured cabling?
Structured cabling enables data or voice communications using various kinds of cable, most commonly category 5e (CAT5e), category 6 (CAT6). It forms the physical backbone of your network, or VoIP business phone system, creating a working network of devices using patch panels and routers. The physical connection provided for through cabling enables businesses to enjoy better quality voice and data solutions than would be available through wireless solutions.
For businesses interested in VTSL's structured cabling services or in getting a quote for a VoIP business phone system, contact VTSL.