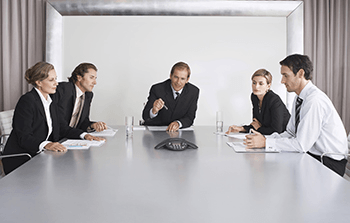 Look no further if you need a conference calling service that is simple, affordable and easy for your employees to use. VTSL now offers a business conference bridge service, allowing you and your team to securely and effortlessly communicate with colleagues, customers and others around the world.
VTSL already offers 10-way calling as a standard feature of their popular VoIP business phone system. But now customers who would like a dial-in conference number, will be able to use VTSL's streamlined conference bridge service.
Businesses using the service will enjoy a wide range of benefits, including:
iPHONE & ANDROID APPS
Create a meeting in seconds straight from your phone using the handy app.
COMPLETE SECURITY
Feel secure with passcode protection to prevent uninvited guests from joining your conference.
DOMESTIC AND INTERNATIONAL COVERAGE
Gain from a wide number of local and toll-free numbers for you and your participants.
ONLINE MANAGEMENT
Manage your account and live conference calls online from the online portal.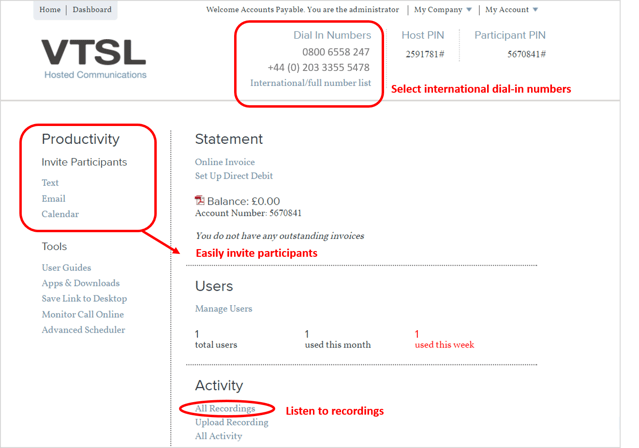 THREE WAYS TO LISTEN TO RECORDINGS
It's easy to record your meeting, and then listen, download or share it. Users can stream the recording online, dial-in using a PIN, or you can choose to have the recording transcribed.
EASY JOINING VIA OUTLOOK
Integrate your conferencing services with Outlook to automatically add your conference details to an email or calendar invite.
SIMPLE BILLING
Conference calling is added to your VTSL monthly bill - no extra invoices or suppliers.
The new service is part of VTSL's continued expansion into communications mediums that add to the hosted VoIP provider's ability to provide a one-stop-shop for all business communications needs. More and more companies are seeing the importance of having unified communications capabilities -- a truly integrated service between email, web, telephony, chat, video and conferencing. VTSL is able to offer this without a big price tag, and moreover, with intuitive platforms and free training that ensure teams are getting the most out of their communications set-up.
For more information on VTSL's conference meeting service, or on other unified communication services including VoIP business phone systems, contact Sales on 0207 078 3200 or click below for a call back.