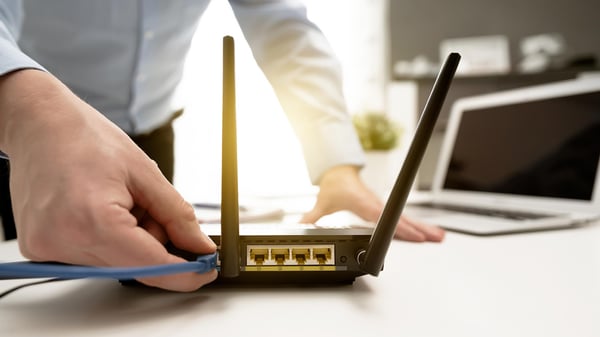 As lockdown measures are gradually eased, one thing is clear - people that can work from home, will be working from home for the foreseeable future. But what if you theoretically can work from home, but can't practically, due to a poor broadband connection? I recently had a video meeting with someone who was working in their utility room because it offered the best WiFi signal in the house (despite the visual interference from laundry baskets).
But as with anything, before you too become too annoyed about your poor connectivity, get some facts, i.e. do a speed test. That will help you figure out how bad it is, and how much more you might be able to get by upgrading your package, or switching providers. When you do a speed test, have a look at the comparison of your speeds relative to neighbours'. If yours is noticeably slower, it would be worth speaking to your broadband company to ascertain if there is a faster fibre package available. If engineers still are not able to do installations however, it may be impossible to upgrade,- in which case you will want to try our home broadband hacks listed below. They may just prevent you from ripping your hair out (or working next to the washing machine).
Don't use your microwave
Did you know that a microwave oven can interfere with your WiFi signal? It might sound crazy, but Ofcom advises: "Don't use the microwave when you're making video calls, watching HD videos or doing something important online."
The UK's telecoms regulator told Guardian Money this advice specifically related to using a microwave, rather than its mere presence. However, some families have been going further and switching it off.
Lighten the load on your connection
More and more household objects and devices connect to the internet via WiFi. Even the obvious ones, like smartphones often work in the background, so try switching off these device's connectivity when you are not using them.
Keep your router away from other devices
You might be surprised at what can affect your WiFi if it is too close to your router. Cordless phones, baby monitors, halogen lamps, dimmer switches, stereos and computer speakers, TVs and monitors can all affect your WiFi connection if they are too close to your router, Ofcom advises.
Top tip: Place your router on a table or shelf rather than on the floor – and reboot it if you haven't done so for a while.
Get a new router
If you have had your router for a few years, you might be able to get an updated one that has more powerful WiFi Check with your broadband provider, bearing in mind they may make you sign a new contract.
Top tip: If your provider can't help, consider replacing your router with a third-party one. Prices start at about £70, rising to £150 for more powerful ones.
Forget the WiFi, get a cable
You could try using an Ethernet cable to connect your computer directly to your router. This should give you a faster, more reliable connection, at a very low cost.
Top tip: Make sure the Ethernet cable you buy is CAT '5' or above.
Get a booster
Try a WiFi Booster (WiFi Extender) – a smallish device you simply plug in that amplifies your signal. They are a good solution for bigger properties where you can plug them into the parts of the house that you struggle to get a decent signal.
They come in varying prices and effectiveness. Many people like the Netgear Nighthawk X4S tri-band WiFi range extender. Unlike some, this keeps the same WiFi name and password that you already have, but it is a bit pricier at over £100.
---
About VTSL
VTSL is a leading unified communications technology company, providing organisations across the UK and Ireland with the solutions they need to work smarter. From integrated telephony-CRM systems, to video conferencing, to fibre connectivity and work-from-home solutions, VTSL is committed to helping companies use technology to get ahead. Find out more about VTSL's award-winning cloud business telephony system, network solutions and software integrations by emailing info@vtsl.net or giving us a call.