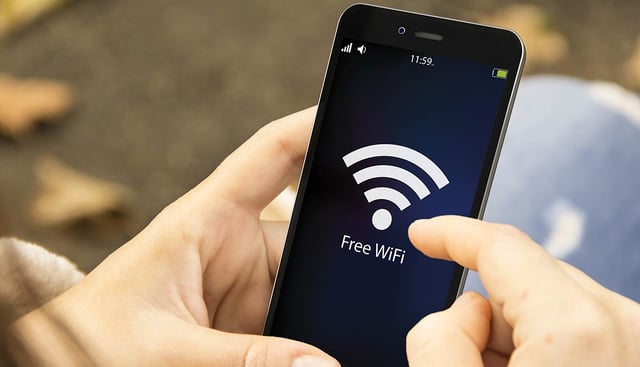 We have all had the Connection not secure warning pop up on our screens as we attempt to connect to public WiFi. But sometimes we really have to connect, particularly for business – an email must be sent, a document must be downloaded, or your Bria softclient must be used so you can make business calls.
VTSL's engineers suggest trying the following to ensure a public WiFi connection is as safe and secure as possible when you have to connect.
Only connect with secure websites
If you can avoid doing online banking, and visiting your Facebook page, you are less likely to be at risk. These are the type of sites that cyber criminals like to hack for personal information. If you need to connect to these sites, use a service such as HTTPS Everywhere to encrypt your connection.
Install antivirus and anti-malware applications
The connection you choose is only half of the security issue you face. Often, malware will infiltrate your phone and begin to crack your passwords.
SophosLabs, which has studied the issue of malware on mobile devices for a decade, warns that mobile malware is on the rise - and Android malware increased for every month of 2017.
Try Avast Mobile Security or Bitdefender Antivirus (free version) to protect against malware as much as possible.
Turn off all sharing options
At home you probably share your computer with a printer and maybe an external hard drive. When you are using a Wi-Fi hotspot, turn off the sharing options, as these can give cybercriminals the opportunity to penetrate your computer.
Turn off Bluetooth
Switching off Bluetooth when you are not using it is a sensible option as it closes another channel that could be used to hack your device. It also saves battery life.
Encrypt your sensitive data
All the data that moves over a VPN will be encrypted, but if you don't have a VPN available, then encrypting your emails is a sensible precaution if they contain attachments with sensitive information.
Finally, after you are done using the WiFi network, make sure you go into your WiFi Settings and 'forget' that connection. This prevents your device from becoming vulnerable and connecting automatically when you don't want it to.
If you need to use 4G, you may want to consider installing mobile security applications. McAfee Mobile Security is a good example and is available for Android and iOS devices. And of course the most secure way to connect when on the go, is to set up a VPN. It will ensure that sensitive data is protected as it moves to and from your mobile devices. Both Android and iOS support the use of VPNs. Windows and Mac OS X also have a range of VPNs to choose from.
---
About VTSL
VTSL is the leading business telephony company for medium sized enterprises in the UK. Offering a range of flexible working and unified communications solutions, VTSL enables your business phone system to be used on any device, anywhere, by any employee. This freedom gives your staff the ability to conduct business as professionally as possible, wherever they are. With low, per user pricing, a private network, and dozens of productivity-enhancing features for free, VTSL offers a winning solution for organisations that want to get ahead. Find out more by calling 020 7078 3200 today. www.vtsl.net