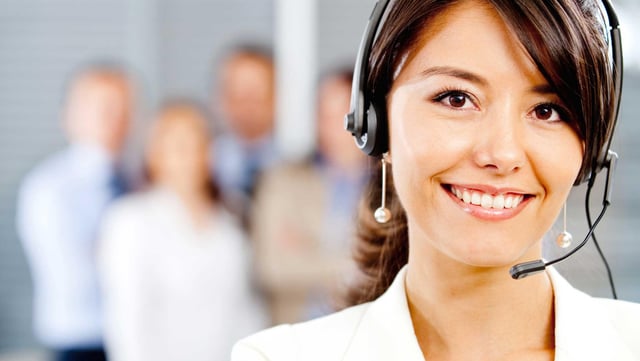 CEB data from more than 100,000 customers across the world shows that interactions with service reps are four times likelier to lead to customer disloyalty than to loyalty. As such it is no surprise that the tide is turning in the world of customer service. It is now believed that companies should focus on sparing customers grief rather than trying to impress them with amazing service.
How do you do that?
Improve self-service tools
Customers may not need to call your support desk if self-service channels are easy-to-find and intuitive. That doesn't have to mean big investments in new technology. With a simple website pop-up asking a question or two about the reason for visiting, customers can be directed to the optimal channel for solving the matter. Whether it is support material, live chat, or an email with customer-specific information generated automatically. . . rarely does the person need to call the support desk if such options are offered.
Integrating your self-service channels with your CRM system is another inexpensive but effective solution. Salesforce, for example, can capture the details entered on the website customer service page through a straightforward API, providing information that a customer service rep can see if they do end up interacting with that customer. Website integrations with Salesforce and other CRM systems will also allow you to easily view data regarding common issues customers are trying to solve.
Pre-empt repeat calls
Many help desk calls are customers simply checking on the status of an issue already being handled. Rather than wait for the customer to call, you could send emails or texts pre-emptively giving them an update. When issues are nearing resolution, offer insight as to new problems that may arise, and advice as to how to solve them. This may avoid another call to the support desk.
Lastly, use technology to ensure that when your customers do call back, they are routed to the person they were speaking to previously about their issue. VTSL's Salesforce integration will recognise the caller and route the automatically to the person they were last speaking to regarding an open support ticket.
Use "experience engineering" techniques
There won't always be an easy or quick solution for customer service issues, and in these instances, it helps to train reps on how to use language to try to influence the customer's reaction to disappointing news. For example, one telecoms operator could only give an eight-hour service window for next-day repairs. To make an all-day window more palatable, the reps now offer another option: a two-hour window in three business days. Faced with a slower response, the vast majority of customers happily take the eight-hour window.
All in all, the lesson here is that focusing on providing outstanding customer service isn't as helpful as ensuring you make the process as quick and painless for customers as possible, with a focus on resolving their issue rather than empathising with their problem. Would you rather hear "I'm sorry", or "Let's fix that now for you."?
We are willing to take a bet.
---
About VTSL
VTSL is the leading UK provider of IP business phone systems and unified communications solutions for organisations across the UK and Ireland. As winner of ITSPA's prestigious Best VoIP Provider for Medium Enterprises this year, VTSL has a proven business phone service trusted by sectors that depend on telephony. With a low per user monthly pricing structure, inclusive minutes, and features such as CRM integration and cloud call recording, VTSL offers a quality business phone service at a price almost any business can afford. Learn more about the UK's best VoIP business phone system provider at www.vtsl.net.