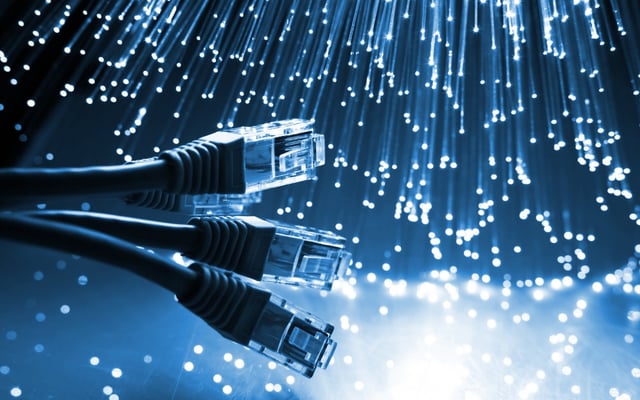 We often hear smaller businesses complain about their internet connection:

It drops in and out sporadically.

It takes hours to download something.

It is supposedly "fibre", but it is so slow.

Unfortunately, it isn't the internet providers fault in most cases. It is the business's. They bought the wrong type of connection.

Smaller businesses often buy retail broadband not designed for today's bandwidth-hungry real-time applications, or the needs of a growing organisation. Retail broadband is ADSL, VDSL and FTTC. It is relatively cheap, and FTTC is often sold under the misnomer of being 'fibre optic' connectivity.

Here we dispel 3 commonly held myths about business internet connectivity.

MYTH 1: "Fibre optic" connectivity from a consumer internet provider is a fibre leased line.

A fibre leased line is a private, uncontended connection. Often large internet retailers will market "Fibre optic" connectivity when all they are really doing is selling you FTTC (fibre to the cabinet). It is contended, meaning you share it with other residents and businesses. Your connection becomes slower when there are more people using it.

MYTH 2: ADSL, VDSL and FTTC products are suitable for businesses.

ADSL is a type of DSL connection that utilises the frequencies on regular copper phone lines that aren't taken up by voice calls. VDSL is the same, however it accomplishes this with more efficient use of phone lines by using a configuration that effectively shortens the distance that the signal has to travel. (Shorter distances means less degradation and a more reliable connection.) Fibre to the cabinet (FTTC) on the other hand is based on a combination of fibre optic cable and copper cable. The fibre optic cable is in place from the local telephone exchange to a distribution point (commonly called a roadside cabinet), hence the name fibre to the cabinet. From this distribution point a standard telephone line based on copper is then used to deliver the broadband connectivity. So ultimately all three rely on a copper phone line to deliver your business-critical internet service—and this is not a suitable solution.

What is suitable for business is a fibre leased line. This is a private fibre optic connection with as much bandwidth as you require. It is less susceptible to outages, and you can usually increase bandwidth (should you need more) within a day or two. Not only is it uncontended and more robust than DSL and FTTC services, it allows you to easily converge voice and data—so that both your VoIP business phone system and your internet connection share one robust line that you have control over.

MYTH 3: I have a great deal on business broadband as I bought it during a special promotion. Price is the biggest indicator that you aren't getting the right product. If you are paying less than £100 per month, you have a DSL or FTTC product. And given how important the internet is to the functioning of your business, it is probably something you don't want to skimp on. Lost connectivity can cost a business thousands of pounds in productivity, let alone lost customers. If the deal sounds too good to be true, it is. You get what you pay for when it comes to business internet connectivity.
---
About VTSL
VTSL is a leading cloud communications provider, serving businesses across the UK & Ireland. The company provides unified communications solutions that are easy for staff to use, and promote smarter, more efficient working - from anywhere. VTSL specialises in hosted business telephony, integrations and business internet connectivity. For more information, contact one of our consultants on 020 7078 3200 today.