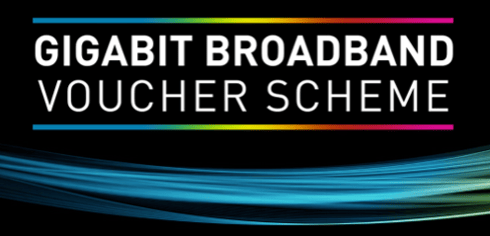 The Department of Digital, Media, Culture & Sport recently announced their £67m Gigabit Broadband Voucher Scheme to help businesses install fibre broadband connections. Businesses can claim up to £3,000 against the cost of connection either individually or as part of a group project. This includes hardware and construction charges.
Businesses are only eligible for the scheme if they use an approved provider, who applies on their behalf.
VTSL is pleased to have been chosen as an approved supplier. As a long term supplier of premium business-grade fibre and other network services, VTSL was a natural fit for the government programme. David Walton, Chief Financial Officer, commented:
More and more small and medium businesses need for gigabit fibre connectivity to support their day-to-day activities, but fibre connections are often expensive to install. The government's Gigabit voucher scheme will go a long way to help UK organisations to achieve the connectivity they need in an affordable way. VTSL for example, offers free installation as standard for fibre, but with the scheme, businesses can claim £3,000 to pay for hardware and excess construction charges - making set up completely free.
The Gigabit Broadband Voucher Scheme is part of the Local Full Fibre Networks programme, which has the strategic objective of increasing full fibre coverage across the UK.
Starting in late 2017, the programme launched the first wave of its programme, designed to test its approach to market stimulation. £10m was allocated to the launch of five pilot projects across the country, including £2m on a market test for the voucher scheme. The national launch of the scheme has been designed to build on the lessons learned from the market test, and ensure as many eligible businesses as possible take advantage of the funds.
It is no secret that demand for better digital connectivity has increased rapidly and will only continue to do so. Real-time applications, internet connected devices, cloud data storage, cyber security systems, streamed services such as video & music, voice & video conferencing, and flexible working for employees with access to company systems will all continue to contribute to businesses' need for better, faster, more reliable connectivity. And fibre connections, as offered by the scheme, will be able to provide that.
Are you eligible?
The scheme is available for small to medium sized enterprises.
A small to medium sized enterprise is defined as one that employs fewer than 250 people and has an annual turnover not exceeding €50 million, and/or an annual balance sheet total not exceeding €43 million. This includes sole traders.
For more guidance on whether you are eligible, please see the official terms and conditions document or VTSL's web page.
---
About VTSL
VTSL is a leading provider of unified communications solutions, and specialists in business IP telephony and premium connectivity. With the most advanced network services available, a range of VoIP telephony options, and a focus on improving business efficiency, thousands across the UK & Ireland have benefited from VTSL's dedicated approach, superior service and advanced technology. For more information call 020 7078 3200 today or email gigabit@vtsl.net.