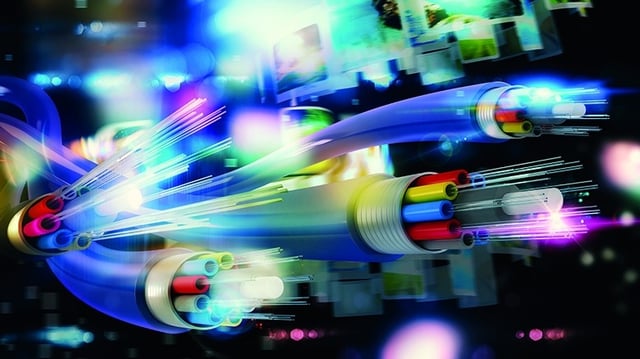 Some may not think of the telecoms industry as interesting — particularly if it conjures up images of men in hard hats working on phones lines. But the telecoms industry is vast, from the large telecoms companies that connect nearly all UK homes, to the modern service providers offering VoIP business phone systems, to the ever-expanding mobile networks that keep you online wherever you may be.
Some could argue that the telecoms industry is actually the centre of the business universe. Keeping people connected via the internet, office phones, mobile phones, and emerging new technologies is a fundamental prerequisite for business growth — in any industry. Last year we saw the launch of the first £1,000 mobile phone with Apple's iPhone X. And we read dozens of news articles citing how badly the UK is doing in terms of its telecoms infrastructure, with glaring holes in decent broadband coverage.
But what about this year? What does 2018 hold?
Mobile phones
This may be the year of the bendy phone. Apple filed a US patent application for a phone with "a flexible portion that allows the device to be folded." Microsoft was recently granted a patent for a tablet device that folded up to become a phone. And Samsung is reportedly working on a folding phone called the Galaxy X, a rumour that has long been circulating.
This may also be the year of the amazing battery. Samsung's research into graphene batteries could lead to a phone that charges in just 12 minutes, with up to 45 per cent more capacity. Hooray.
Landlines, SIP, VOIP
In the landline world, SIP and VoIP will continue their advance to replace ISDN. The crossover point has been reached; more businesses are connected by IP rather than analogue. While businesses have until 2025 to make the switch (at which point ISDN will be turned off), most businesses are switching now due to the advantages VoIP business phone systems offer. From predictable costs, to self-management portals, VoIP service providers are offering a business service that is hard to turn down.
UK telecoms infrastructure
Last year the UK was 54th in the world for 4G coverage, 31st in the world for average broadband speeds, and bottom of Europe for the rollout of Fibre to the Premise (FTTP). Ouch.
The current plans are not particularly comforting. The targets that have been set are outdated and even if they are achieved, will still leave the UK lagging behind. The UK government wants everyone to have access to a minimum of 10 Mbps broadband by 2020. Whilst 10 Mbps may have been reasonable when the target was set several years ago it is now out of date. It is not suitable for the growth of the Internet of Things and the steadily increasing range of cloud services. By contrast, the EU Digital Agenda goals intend to deliver 30Mbps or more for all by the same date. Japan and South Korea expect to have 5G up and working by 2020, whereas we hope for some coverage by 2025.
One can only hope that the Government and the regulators will take a tougher approach in 2018, and intervene to help the UK get to where it should be.
As for our other predictions? We predict that if you don't already have a business VoIP phone service from VTSL, you will call today to get a quote. :)
And we predict you will be happy.
---
About VTSL
VTSL is a leading unified communications specialist offering award-winning business VoIP phone systems, business-grade connectivity and integrated communications solutions that help organisations work smarter, and more efficiently. VTSL's hosted VoIP business phone service includes features like call recording, which can easily be listened to from the customer's online web portal; and live call data by user and team, to help managers better allocate resource. For more information, please call 020 7078 3200 today or email info@vtsl.net.