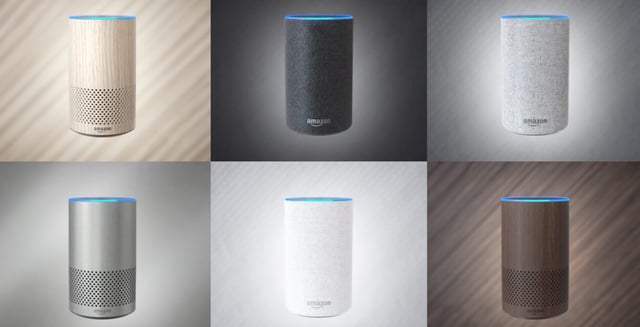 Amazon is now delivering the second generation of its popular Echo device—the home assistant that has become one of the most talked about gadgets in Britain. But is it worth upgrading to the newer model? Will the old Echo still work?
There are actually two new versions of this second-generation device, the Echo 2 and the Echo Plus. Here we explain how why they are an improvement on the original Echo and how they differ from each other.
Echo 2 – Appearance
The Echo 2's speaker is now much smaller, with a height of just 14.8cm. That is about two-thirds of the size of the old 23.5cm Amazon Echo, so the new model is certainly less obtrusive on a shelf or worktop.
It is also coated in a new fabric skin, doing away with the hard exterior of the first generation. In the UK, you can choose from a variety of colour options including Charcoal, Heather Grey, and Sandstone. There will also be Oak, Walnut, and Silver non-fabric versions too.
Echo 2 – Technical Specs
Amazon says that the Amazon Echo 2 has an "all-new speaker architecture" that includes a dedicated tweeter, a 2.5-inch downward-firing woofer, and Dolby processing to boot. The latter is supposed to help deliver crisp vocals and dynamic bass throughout a room (something I can confirm the first Echo was lacking).
Amazon has also introduced a second-generation version of its far-field audio capture technology. This means you should enjoy better wake-word (i.e. what you say to wake 'her' up; "Alexa" for most people, although it is customisable) processing, as well as improvements to beam-forming and noise cancellation that should result in better voice recognition overall. If you have tried using the Ocado app on the original Echo, you will be very grateful for this improvement saving you from getting Oreos instead of oranges again.
Echo 2 - New Capabilities
The new wave of Echo devices brings with it two important new abilities for Alexa. The first is Routines, which lets you create custom phrases to trigger or schedule a number of actions to occur at once. For instance, you could create an "Alexa, I'm home" command, which could then turn on your heating and lights and rattle off your to-do list.
The second notable new feature is the ability to place calls through an Echo. This has been available in the US for a while, but now UK Echo's can make calls too. The Alexa app scans your contacts book for email addresses associated with an Echo device that has enabled calling, and then you simply ask Alexa to place a call. It is a quick and easy way to make a call.
Echo Plus – How is it Different?
The Pro is taller than both the original Echo and the Echo 2, and still comes in the original black and white colour schemes. If you want something a bit different however, you can get it in a shiny metallic silver too. The Echo Plus improves on Echo 2's speaker developments with a larger 0.8-inch tweeter, and 360-degree audio. But the real difference between the Echo 2 and the Plus is the greater smart-home support. While the Echo 2 can control your Hue bulbs, the Plus can act as a smart-home hub and easily set everything up by just asking it. It also has ZigBee wireless protocol smarts built in, letting devices on that standard interact with the Echo Plus speaker directly, bypassing the need for a standalone hub unit. And, in case you didn't already have one… you get a free Hue bulb with the Plus, to give you that smart-home kickstart.
You can order your Echo 2 or Plus on Amazon.
---
About VTSL
VTSL is the leading UK provider of IP business phone systems and unified communications solutions for organisations across the UK and Ireland. As winner of ITSPA's prestigious Best VoIP Provider for Medium Enterprises this year, VTSL has a proven business phone service trusted by sectors that depend on telephony. With a low per user monthly pricing structure, inclusive minutes, and features such as mobile twining and cloud call recording, VTSL offers a quality business phone service at a price almost any business can afford. Learn more about the UK's best VoIP business phone system provider at www.vtsl.net.