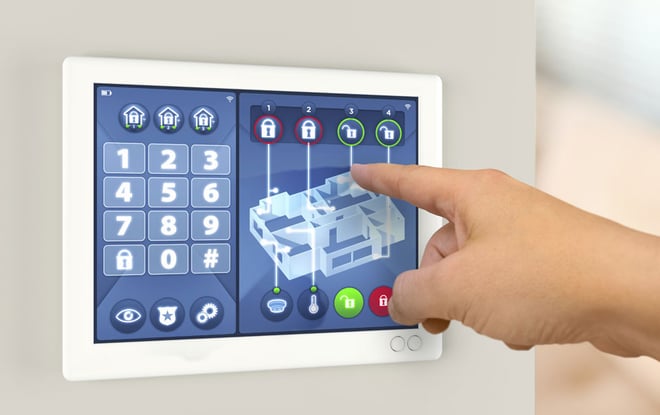 With a global focus on cyber security the past few years, it is easy to forget about physical security: protecting our businesses from criminal intruders. Yet this is as real a concern for offices across the UK as hacking is. Businesses are responsible for customer data held on site, payment information and of course the safety of their employees amongst other things. Here we have compiled options for securing your office, the modern way. Technology may seem like a vulnerability for companies, but it can also be a strength.
Smart Door
To get a smart door, you need a smart lock. And the very latest in door security by Yale (the Yale Conexis L1 Smart Lock), is just that. It has a free Bluetooth app your employees can download which enables them access to your office by simply twisting their Smartphone 90 degrees over the lock reader. The lock is also designed for use with a range of keyfobs, key cards and key tags, giving you full control of how you want to open the door. It tracks who comes and goes, and there are no keys and no codes to remember. This most likely wouldn't suffice as your office's only security, but it is a handy way to keep the office secure during the day as employees come and go, without having to leave the door unlocked or issue everyone with keys.
Another lock popular with VTSL customers is the 2n Helios IP Force 1 Button Door Intercom. As the name suggests, it is an extremely durable IP intercom that can withstand even the most demanding conditions. It provides for visitor communication monitoring and access control, and has the greatest coverage on the market, as well as great voice clarity.
Smart Security
The Yale Smart Living Wi-Fi Enabled IP Camera is a web-based camera that captures high definition footage for immediate viewing on your smartphone. This IP camera allows you to keep an eye on the office when no one is there, or the underlings have been left to their own devices. Set-up is easy and the app is free to download. The camera also includes some impressive features with an incorporated mic and speaker system which allows you to hear and talk back (all the better for chastising naughty employees!).
Smart Office
The ERA Invicible Wireless SmartPhone Alarm is a dual network alarm with integrated mobile phone technology. This particular system is more than just an alarm. It is a monitoring system which allows you to monitor, secure and communicate with your office remotely. The ERA Invincible emits a loud siren once triggered and sends notifications to your phone via text message or push notifications from the Smart App depending on your preference. The control panel includes a mic and speaker system allowing you to hear and talk back when needed.
There are also three other models available in the ERA Wireless Alarms range.
Smart Monitoring
The Yale Smart HD1080 – 2 Camera CCTV Kit is a high definition CCTV kit offering HD resolution recording and playback via your TV or SmartPhone. The cameras are fully weatherproof and are designed to be installed outside of your office building to monitor key areas such as front and back doors or parking areas. The cameras also include night vision technology to provide crystal clear recordings at night and with a 2TB hard drive, the DVR will store several days' worth of record footage at a time.
Most smart technology of any kind, including security tech, requires having robust connectivity. Whether it be a fibre leased line, FTTP or FTTC, businesses need a strong network to support the growing world of intelligent devices. WiFi networks must also be designed to deal with the increasing amount of equipment that relies on WiFi to function properly. So before you embark on a new smart security system, or any sort of smart device for your office, it may be worth getting an expert to check your connectivity is up to scratch. Not sure who to call? Our expert business connectivity team would be happy to give you a free consultation. Just call 020 7078 3200 or email info@vtsl.net for a free consultation today.
---
About VTSL
VTSL is a leading unified communications company in the UK & Ireland, specialising in hosted IP business phone systems and network connectivity. VTSL's award winning business telephony platform, private network and a wide-range of integrations make it the provider of choice for organisations wishing to upgrade their communications platform to the most modern technology. Learn more about connectivity, IP business phone services and VTSL's suite of integrations at www.vtsl.net.