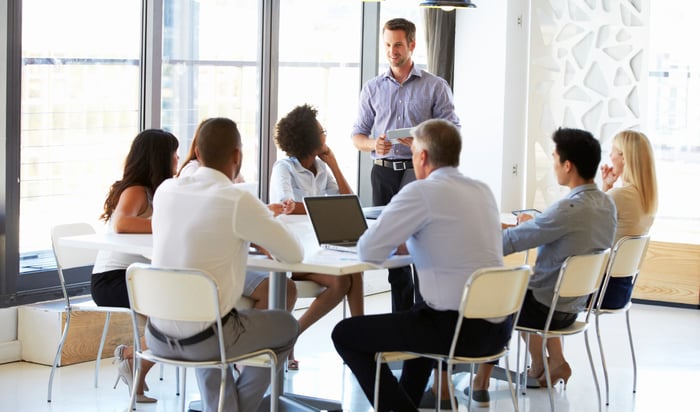 Sales people are notoriously friendly, talkative and good at relationship-building. It is part of what makes them effective at their job. But these same qualities often make them inefficient. Hours are lost chatting, while other important tasks are left undone. This need not be the case however. Avoid this situtation with VTSL's top 5 tips on how to make your sales team more efficient.
1. Track Time
Before you can start implementing new strategies, you need to assess your old ones. Begin by tracking the time spent on various tasks your salespeople do. Have them track how long their phone calls are, how much time they spend sending emails, how long prospecting takes, etc.
You need to see how much time is spent on all tasks and where you can improve. If you see that the majority of a sales person's day is being taken up by phone calls, how can you streamline the process? Focus on implementing strategies that solve the problems that you notice.
2. Implement the Right Technology
If your team is stuck doing a lot of tasks manually — then this is an obvious place to start. You need to give them the tools they need to do tasks quickly, so that they can focus on selling. On average, sales people use six different tools, according to research by Sales for Life.
Much of the administrative work your sales team does can be automated with the right tools. Use EchoSign for contracts, use a CRM system that integrates with your business phone system, try PandaDoc for proposals, and set up automatic reporting dashboards so that your sales team doesn't have to spend hours preparing for sales team meetings.
3. Invest in Good People
It can be a challenge to identify the right people for your team, but finding and hiring the right people is critical to your organisation's ability to be effective.
On his blog, entrepreneur Neil Patel writes, "The culture you build starts, of course, with the employees you hire. While you can resurrect a flagging culture that discourages accomplishments and efficiency, it's easier to get things right from the start."
Make efficiency an important part of your culture by hiring people who are naturally productive. The right employee can have more of an impact on the sales team's efficiency than 100 others.
4. Focus on Training
Even when you do hire the right people for your team, you still need to set them up for success. That means investing in a strong training and coaching program. According to recent research, high-performing sales organisations are twice as likely to provide ongoing training as low-performing ones.
Your training program should thoroughly explain the sales process and the expectations for performance. You should regularly listen-in to calls to hear first-hand how your sales team is handling objections. And ideally, your business phone system has a 'whisper' feature where your reps can get real-time advice from you while on the call, without the other party hearing.
5. Communicate Effectively
Communication is key in all relationships, including work relationships. As a sales manager or leader, you need to be able to express your vision and goals and communicate them to your team in a way that they understand and can follow.
You also need to communicate efficiently. That weekly sales meeting needs to have a purpose every time; otherwise, you are wasting everyone's time - including yours. Ensure your sales team has the access they need to other parts of the business to get answers they need. One way to help achieve this is through an internal live chat application that is part of your unified communications platform.
---
About VTSL
VTSL is an award winning IP business telephony solutions provider specialising in integrations that help businesses work smarter and more efficiently. With affordable pricing, quick-set up and 24 / 7 support, organisations across the UK and Ireland are benefiting from communications technology that empowers employees to do more. Learn more about how the unified communications provider can help your business get ahead by calling 020 7078 3200 or emailing info@vtsl.net today.
For a free IP business phone system quote, or to speak to an expert about your unique needs, email salesteam@vtsl.net.