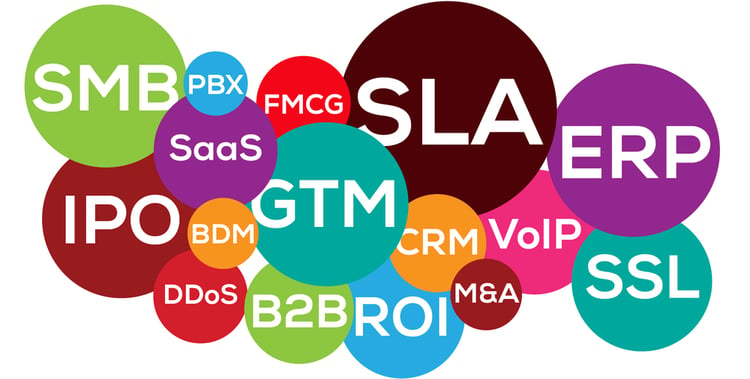 If you have ever had to speak to a telecoms company about a new phone system, or even an IT company about installing new internet connection, you will probably remember the sales rep using a lot of baffling acronyms that made the entire process more confusing than it needed to be. PoP, VoIP, LAN, WAN, VPS, GEA, BPS, might have been a few you heard mentioned. The information technology and telecoms industries are rife with such abbreviations, that should in theory, make conversations quicker - but given most of us don't speak technology-acronym language, they serve to do much the opposite.
Here are a few you can use for your next IT call, or to decipher your next business phone system quote.
PoP - Point of Presence
VoIP - Voice Over Internet Protocol
LAN - Local Area Network
WAN - Wide Area Network
VPS - Voice Processing System
DTH - Direct to Home
BPS - Bits Per Second
EFM - Ethernet First Mile
ADSL - Asymmetric Digital Subscriber Line
GEA - Generic Ethernet Access
MPLS - Multi Protocol Label Switching
SDN - Software Defined Network
You shouldn't need a cheat sheet however to decipher a quote, or have a meaningful conversation with a sales rep about getting a new internet connection, or a phone system that integrates with your CRM system (CRM is Customer Relationship Management btw). Technology providers should not need to dazzle and confuse you with a rich vocabulary of acronyms, they should be able to explain things in simple terms, and answer questions in a straightforward way.
Jeremy Clarkson recently wrote a Sunday Times column titled: I don't care if these blasted abbreviations are MIA, Awol, KIA or DOA. I just want them gone. He explained that he received an email the other day that said the sender was OOO. Not knowing what this meant, Jeremy decided to make up his own acronym for his reply, "So we are all BYY then?". Who knows how long the person on the receiving end spend Googling BYY, but the point is, you have power too. Give the acronym-afflicted sales rep a run for his money with your very own ADTC (acronyms designed to confuse), and see if he starts speaking in words that 99.999% of the population actually understand.
At VTSL, we believe that good technology is simple - it works, it can be explained in plain English, and doesn't need a series of long training sessions to use properly.
For more information on business telephony systems, internet connectivity or cloud communications, please contact one of our very-easy-to-understand technology experts on 0207 078 3200 today.
---
About VTSL
VTSL offer the full suite of cutting edge communications solutions for your business -- from private fibre networks, to business-grade WiFi to video conferencing and cloud-based business VoIP telephony. As pioneers of IP telephony services and over 10 years of experience implementing unified communications solutions, it is no wonder why VTSL is an award-winning telecoms provider year after year. For more information on how to future-proof your office with the latest tech, speak to one of our experts today. Call 020 7078 3200 or email us at info@vtsl.net.