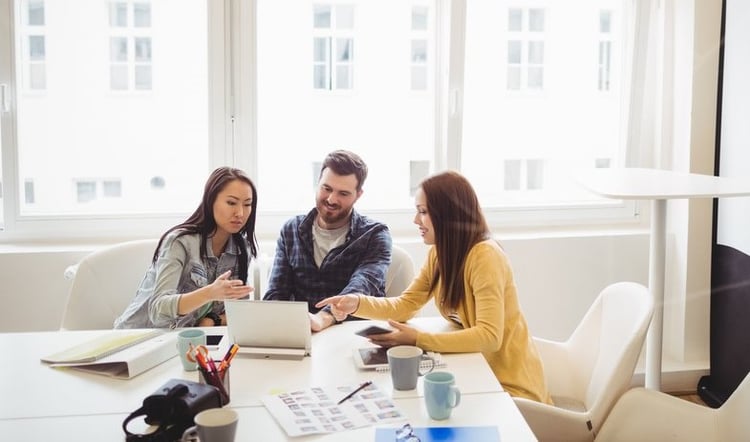 by Lauren Murphy
Is the office as we knew it, dead? This topic has been widely debated since the pandemic began close to a year ago. Undoubtedly, the office environments we will be returning to will look different to those we left behind - but how many of us will truly return?
As we become more accustomed to working from home and all the benefits it offers, is it safe to say the office as we once knew it is a thing of the past? Here we outline two probable scenarios for what offices will look like post-pandemic.
Future Reality 1 - The Office Base 'Hub'
Packed trains and pricey, lengthy commutes are certainly something most of us would like to leave behind as a 'new normal' emerges. However, the need for collaboration, the value of face-to-face contact and the skills obtained organically by learning from your peers is not something that can be achieved from a weekly Zoom catch up. Corporates are leading the way by introducing the 'hub' model into their real estate strategies. This involves a city centre location, which employees can choose to have as their base, or simply use to collaborate with their team when needed. This space is likely to be considerably smaller and the layout vastly different to what we would have previously considered a 'head office', as employees utilise the opportunity to mix up their working week by working from home, or closer to home.
Future Reality 2 - The Regional 'Spoke'
Another trend emerging as a result of the current pandemic is the need for a regional presence, allowing those employees that do not wish to travel into the city centre the opportunity to escape from their dining room table and work in a professional, productive environment closer to their home. Many have recognised the boost in their productivity and mood now they are no longer a slave to the 9-5 and the commute that comes with it. Having spent close to a year with an unprecedented amount of time with their family, people are beginning to recognise the true value of work/life balance, and employers are ultimately reaping the benefits of more productive employees.. Most sizable Operators already have regional offerings within their portfolios, allowing tenants of one site to access all, but those that do not will likely look to add smaller, regional sites as they expand their portfolios.
Conclusion
After every recession, flexible office space has experienced a period of growth, and we believe it will be no different this time around. Flexible, by definition of the word, allows the Operator to change the proposition of their offering to meet the demands of the current market. Yes, the office space we habit will look different and may well be on our doorstep, but if this year has taught us anything, it is that the value of human interaction - both in our personal and professional lives.
And the office is crucial to that.
---
About VTSL
VTSL is a leading hosted communications technology company, providing landlords, flex-space operators and other organisations across the UK and Ireland with the solutions they need to work smarter. From integrated telephony-CRM systems, to video conferencing, to fibre connectivity and work-from-home solutions, VTSL is committed to helping companies use technology to get ahead. Find out more about VTSL's award-winning cloud business telephony system, network solutions and software integrations by emailing info@vtsl.net or giving us a call.