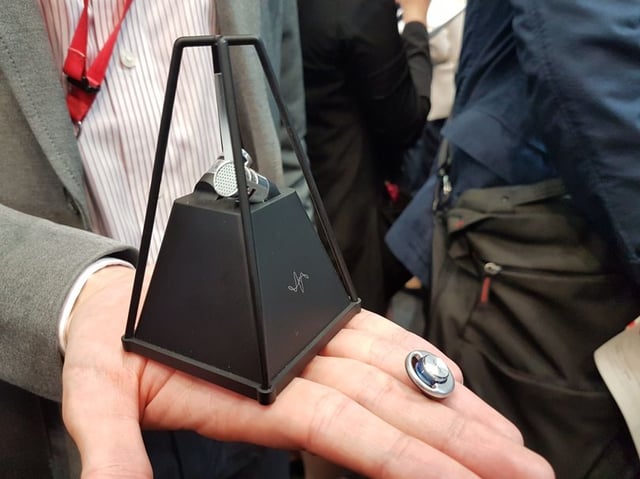 Imagine waking up and putting an earbud in everyday, as routinely as you put on your watch. Then imagine going throughout the day, attending various meetings across the city, with your little earbud reminding you of what was said last time you were in that particular spot. It is still in concept stages, but we are excited about a new headphone technology that will create a "sound version of Google Maps", with people able to replay conversations, music and ambient noise from their past.
The technology, known only as Sound Innovation, is a collaboration between Fujitsu and Yamaha. It is comprised of a pair of wireless earbuds with built-in GPS, Bluetooth and microphone. Sound recording starts autonomously and is uploaded to a cloud-based artificial intelligence platform via a smartphone. The applications are interesting. You could revisit a location many years later and hear once again what you heard in the past. All sounds are geo-tagged to a location and playback starts automatically when someone wearing the earbuds enters a certain area. As well as location-tracking and a microphone, the earbuds are also able to intelligently focus on certain sounds, so they would prioritise picking up a street musician playing a violin, rather than the sound of a police car.
It is all part of Fujitsu's attempt at creating "emotional services", and the company's developers are working to introduce additional sensors to the concept that would allow the earbuds to sense how someone is feeling and play appropriate audio. In a demonstration video, the company showed someone walking through a city and hearing street music playing, while in another example, a visitor to an empty football arena was able to hear the sound of a game from the past. It doesn't go as far as futuristic neural laces but it is a next-step technology that will further integrate devices into our physical bodies.
In addition to the earbuds, the system includes a small pyramid-shaped box called Broadcaster that could be dotted around a city (or venue) to constantly monitor and record ambient sound. A separate speaker system could also connect to the Broadcaster to play sounds out loud. The earbud system itself might even be used as an aid for the hard of hearing that is able to amplify relevant sounds. It could also be connected to VoIP businesss phone systems to replace current headset technology.
There are significant technological hurdles however, and of course, inevitable privacy concerns. Anytime private conversations are recorded and stored in the cloud, there is the potential for hackers to access our most private moments and business interactions. Yet something tells us these hurdles will be overcome and that putting in your earbud every morning will be as natural as putting on your socks.
*For organisations interested in recording employees's office phone calls now, VTSL offers a cloud-based, secure call recording service for £2 a month. Learn more.
---
About VTSL
VTSL is an award winning VoIP business phone service specialist with over 10 years experience in hosted communications. As the leading provider of IP business phone systems in the UK to businesses with 10-150 employees, VTSL offers a next generation telephony option for organisations wishing to save money, simplify their communications technology and integrate it across different mediums. For more information on VoIP or VTSL's other unified communications services, please email info@vtsl.net or call 020 7078 3200 today.