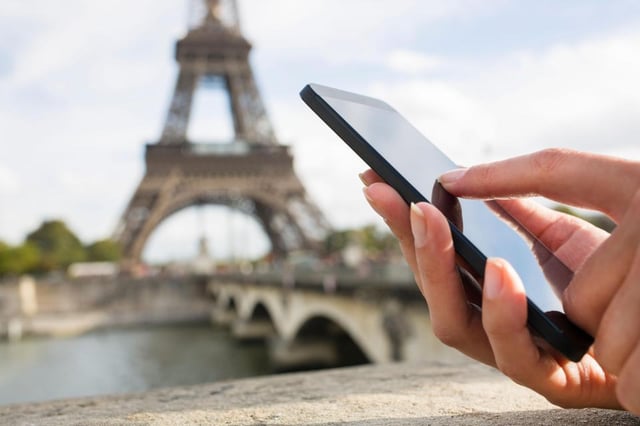 Whether you go to the EU for holiday or business, your trips are about to get cheaper. Roaming charges are finally being abolished after the EU forced phone companies to remove the high tariffs and surcharges travellers have been forced to pay for using their mobile. The best news? The high roaming charges end tomorrow - June 15th. It means that if you are going on holiday to France this weekend, you can take your mobile phone and use it on your normal contract, with your included free calls, texts and data at no additional cost.
The change benefits residents of the 28 EU member states plus other territories such as Monaco, the Isle of Man and the Channel Islands, which are non-members.
The only catch is there are still extra charges for certain calls in European countries.
The new legislation bans roaming charges specifically. That means that users will still have to pay the normal cost if they call the country they are in. For example if you are in Spain and phone a local restaurant to book a table, you will be charged the same as if you had done so from the UK. In some countries this is as much as £1 a minute, so it is something you should be wary of.
There is one more piece of bad news. The new rule is the result of the EU's "Roam At Home" legislation which aims to make coverage broadly the same across Europe. Therefore it is not clear whether people in the UK will continue to benefit from it after Brexit.
In good news, if you have a VoIP business phone system, you can enable an app that allows you to use your mobile just like your office phone no matter where you are, and at no extra charge (meaning you can dial from your office number on your mobile, and receive office calls on your mobile). If you have VTSL's VoIP service, just call the business phone system provider's friendly Customer Support team, and they will be able to set this up for you in 24-48 hours. And it isn't complicated - it is as simple as downloading an app! The app only costs a few pounds, and so long as you have a WiFi signal, or a good 3/4G signal, you can make calls for free - no matter what your mobile contract minutes are, and no matter where you are in the world.
Our phone system experts think that VoIP services with apps like this will increasingly put pressure on mobile phone companies to reduce their tariffs. If tariffs come down, margins will most likely also come down, and we may see the telecoms mobile market consolidate. The Financial Times wrote an interesting article on the potential consolidation of the telecoms market - click here to read.
But no matter what happens with the market, rest assured that until there is a new mind-blowing, revolutionary telecommunications technology, consumers will continue to benefit. Telephony, mobile included, will continue to get cheaper, easier and more customer-focused.
Hallelujah.
---
About VTSL
VTSL is a leading hosted telecoms company focused on providing cutting edge VoIP telephony and unified communications solutions to businesses across the UK & Ireland. Founded by two brothers in 2007, VTSL has developed one of the only VoIP services to run thorugh its own network, guaranteeing voice quality. The company has also developed its own applications and features, providing businesses with an extrodinary business phone system at a surprisingly low cost. Don't let your business get left behind. Get a quote today by clicking here.