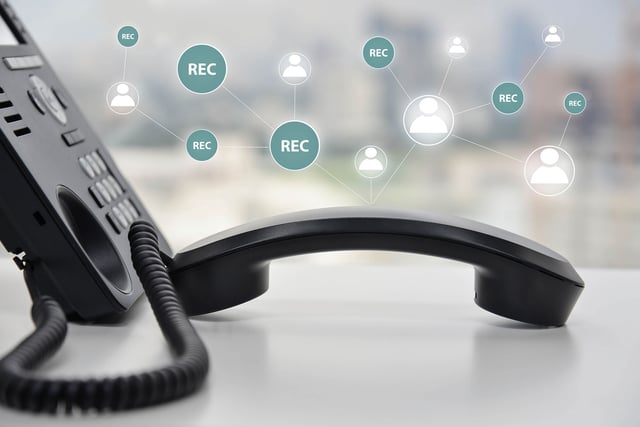 One benefit to email is that there is a 'paper' trail when you need to demonstrate that you did indeed communicate something. But emails are boring, and quickly becoming antiquated with the rise of chat and collaboration platforms. They also take a good few minutes to write, much longer than if you picked up the phone and called the person. The good news is, there is a record even when you do pick up the phone – IF you have call recording.
Call recording is a software that records telephone conversations over PSTN or VoIP in a digital audio file format.
The benefits of call recording are endless… you can resolve disputes, demonstrate compliance, monitor quality, improve performance, record mobile calls and integrate into your CRM system. But which kind of call recording system is best for your business? Let's look at the pros and cons of both types.
The Case for the Cloud / VoIP Business Phone System Call Recording
Here are the some of the main reasons for hosted VoIP call recording systems:
Single, transparent price points: Hosted Software as a Service (SaaS) services offer straightforward subscription pricing which covers all recording, storage and retrieval functions, plus maintenance and support, with no per user licensing costs or upfront purchasing costs
Universal recording: Because cloud providers run the services from data centres, they can allow universal end-to-end recording of all calls with no capacity restrictions
Accessible recordings: Cloud call recording is designed for retrieval via web browsers, so they tend to use file formats which are much easier to export and open in other applications
The Case for On-Premises / PSTN Call Recording
If you aren't sold on a cloud based call recording solution, or a hosted VoIP phone service, there are a couple reasons to go the other route.
Security: Cloud technology may well have evolved to address the concerns over cyber security which initially made people sceptical about running their critical IT infrastructure online. But attitudes are slow to change. In a field like call recording, where privacy compliance is such a big issue, you may just be more comfortable sticking with traditional on-premises systems
Product lifecycles: If you are already running an on-premises call recorder and it still has several years of solid performance left, why change? If you have made the investment, you might as well let it run its course
---
About VTSL
VTSL is the leading hosted VoIP business phone system provider in the UK for medium sized organisations. With a proprietary platform, easy-to-use phones, flexibile working solutions, an intuitive online web portal, guaranteed voice quality and a low per user monthly pricing structure – it is easy to see why more and more businesses are choosing a business VoIP service for their telephony needs. Learn more about call recording and how it can help your business by speaking to one of our experts today on 020 7078 3200.