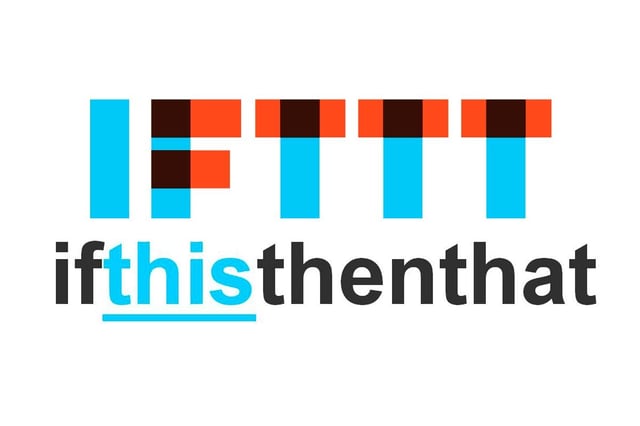 From your to-do list to your company's back-up servers, things that were once physical pieces of equipment are now deployed to you 'as a service' by service providers. For example traditional phone systems have now been replaced by VoIP telephony and unified communications solutions offered as a service. But it isn't just equipment that has gone the way of the cloud. There is now something called everything as a service, and it is delivered by IFTTT.
What is IFTTT?
IFTTT is a company that provides a software platform that connects apps, devices and services from different developers in order to trigger one or more automations involving those apps, devices and services. Quite aptly, the company derived their name from the programming conditional statement 'if this, then that.'
If you are wondering what kinds of things you can do with IFTTT… here are a few automations you can run with the programme. A full list can be found on the IFTTT Collections page.
If you make a call on your Android phone, then a log of that call is added to a Google spreadsheet.
If you add a new task to your Amazon Echo to-do list (perhaps "Alexa, be quiet!"), then it will be added to your iOS Reminders app.
If the International Space Station passes over your house, then you'll get a smartphone notification about it.
It can also do things like help you to quickly email notes to yourself and notify you whenever a new Craigslist post matches your search terms.
How it works
The automations are accomplished via applets — which are similar to macros that connect multiple apps to run automated tasks. You can turn on or off an applet using IFTTT's website or mobile apps (and/or the mobile apps' IFTTT widgets). You can also create your own applets or make variations of existing ones via IFTTT's interface.
The IFTTT service is free for users but developers such as BMW pay IFTTT an annual fee to provide applets on the IFTTT platform. To date, IFTTT has more than 550 partner services (including Facebook and Dominos pizza), and a community of 11 million users who run over 1 billion applets each month.
The idea for IFTTT grew out of the belief that, in the future, "everything will be a service," CEO, Linden Tibbets, said. "And I mean everything: every brand, every organization, every physical object. You'll be hard-pressed to name something that won't be connected to the internet or tracked by the internet of things (IoT) to such a degree that it might as well be connected."
Surely someone else is doing this too
IFTTT isn't alone in trying to make our lives easier by connecting all our devices and apps.
You may have heard of Zapier, a freemium service for consumers as well as business users. Its 'Zaps' are workflows that connect apps, such as Gmail and Dropbox, to trigger and automate actions between them. You can create two-step Zaps for free. More complex Zaps require a monthly fee.
And then there is Microsoft Flow, which connects 195 services to create automations, called "flows," with an emphasis on business productivity. The free service lets you run 750 flows per month and create unlimited flows. More advanced functionality costs $5 or $15 per user per month.
Personally, I think IFTTT is on to something, but to make it a true service, I would like to be able to tell someone how and what I want automated, and have them set it up for me. At VTSL, we offer an online web portal much like IFTTT's, where users can programme their own 'if this, then that's' for their VoIP phone system. The difference is, with VTSL, they can also call and speak to a real human who will do it for them. Offering a VoIP business phone system as a service means that we do things for you, including set up your call groups, call forwarding, on hold messages, etc. It is about making life simpler for the customer.
Perhaps we shall send Linden Tibbets a note, the old fashioned way.
---
About VTSL
VTSL is the UK's leading business VoIP business phone system provider, offering range of unified communicatiosn solutions, as a service. VTSL's phone service integrates with Salesforce CRM and other CRM systems, as well as web browsers, mobiles and more. With 24 / 7 technical support and UK-based engineers available to clients for free advice and system changes, VTSL remains one of the most advanced and customer-service oriented business phone companies in the UK. For more information on VoIP, business telephony as a service, or unified communications solutions that can help your organisation succeed, email info@vtsl.net or call 0207 078 3200 today.