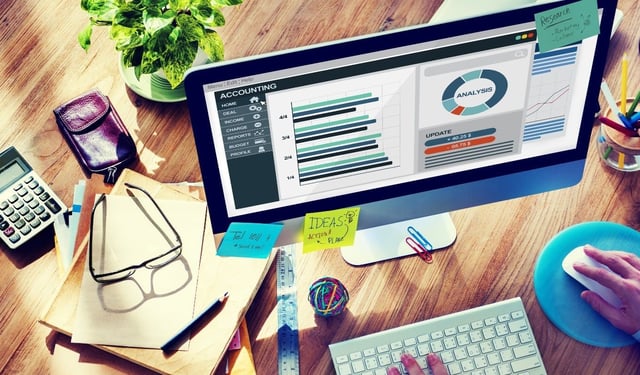 Sometimes being ahead of the curve is a difficult place to live. We are all familiar with products that we think will become mainstream one day, but are 'ahead of their time', and as such we don't buy them. But jumping on a new technology bandwagon just as it takes off is very powerful for a business. You are saved all the niggles of the very early versions, yet receive the benefits of new tech before nearly everyone else.
This year, we think small businesses can capitalise on 5 technology trends that are not nascent, nor mainstream, but instead—just preparing for take-off. Here they are, in no particular order.
Using the Cloud for Information Security
Secure cloud platforms are more secure these days than the good old onsite server, even if there is a back-up server somewhere else. Taking your sensitive and customer data to a secure cloud platform will be a cost effective and more easily managed solution, as well as more secure. As Nelson Da Silva, the Chief Revenue Officer of Receipt Bank said, "Small businesses need to secure their information in case of disaster. By moving books to a secure cloud platform, small businesses can maintain audit records and it also adds an extra layer of security with 2-step verification."
Getting Paid with Open Banking
The EU's second Payment Services Directive (PSD2) took effect on Saturday, the 13th of January, bringing with it the start of open banking. What is open banking? Open banking rules mean that banks must let you share your financial info with other authorised providers. We believe open banking will usher in a new era of bank-to-bank payments, making it the most powerful way for small businesses to get paid. Until now banks have been the sole owners of financial data. With open banking, small businesses can share their relevant data with app providers resulting in better cash flow and less time spent chasing payments.
Using Machine Learning to Automate the Back Office
With machine learning, your company can use computational intelligence to automate tasks your employees once did manually, rather than just correcting data that was entered by hand. Case in point: cloud-based financial management software Hubdoc is doing just that. As Jamie Shulman, its co-founder and co-CEO of said, "Machine learning will help to automate the small business back office and perform much of the heavy lifting associated with financial management. This will increase accuracy and efficiency in financial reporting and move the industry closer to real-time financials. Having the capability to make informed business decisions in real time will be a huge win for small businesses."
Accessing Big Data for Big Insights
In 2018, we believe we will see big data move from being the domain of the big businesses and corporates, to being easily accessible to small business owners and advisors. The extent and quality of data is growing fast while costs are falling. This will promote increased access and put it in reach of all businesses in an affordable and easy-to-consume way. If you are wondering what you can implement right now, check out ClearStory Data, Kissmetrics, and InsightSquared.
Becoming Better Places to Work Than Large Corporations
In many sectors, this has happened already, and many people prefer the atmosphere of a small company to that of a large company even if they have to forgo some benefits. But as technology becomes more accessible, we will see small businesses use it to offer comprehensive benefits to employees – from health insurance to retirement savings, to discounted cinema tickets. Onwards and upwards small companies… onwards and upwards.
---
About VTSL
VTSL is the leading unified communications provider in the UK specialising in VoIP business phone systems for medium sized companies. As winners of the Best VoIP Provider ITSPA award in 2017 and the only provider in the UK to offer the intuitive Silhouette telephony platform, VTSL offers a unique proposition for businesses wanting reliability and cutting-edge technology. From home working, to hot desking, to call recording and CRM integration, VTSL provides a VoIP business phone system with it all. For a demo, please contact info@vtsl.net or call the best business phone system provider today on 020 7078 3200.