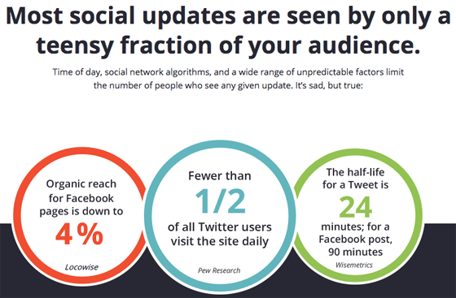 You have probably noticed that your social media updates quickly get buried under other updates. In fact, it would seem they are only at the top of the news feed for a millisecond before being trumped by the latest cat video or restaurant-booking app. Worse yet, your followers and connections most likely check their accounts randomly, not every time you happen to post an update. It is a miracle that your updates are seen by anyone at all.

This is what one may call the "disappearing updates" dilemma. One solution to this "disappearing updates" dilemma is to re-post each of your social media updates multiple times, upping the odds that it will be seen by your targeted prospects. Unfortunately, even if you use a social media management solution to schedule your updates, this can be time consuming, and annoying to do.
Meet Edgar. It is the new social media management tool that enables you to schedule and track your updates (much like other tools), but also enables you to build a social media update library that can be used over and over again.
Edgar is really clever. To start with, it took the domain of the email address I used to sign up with, checked that domain for content, and then asked if I would like it imported over to my library to give me a head start on updates when I need it.
You can also add any great content you come across to your library, categorise it, enter update text and add an image so that it is truly ready-to-go for later.
But where Edgar really shines is in auto-publishing. When you set up your account, you will create time slots (Tuesday afternoons, Wednesday noon, Friday at 11pm, etc) and your library content categories. Unless you are adding a one-time post to be sent at a specific time, all the timeslots in your library indicate an update that will automatically be sent week-after-week using the content from one or all of your categories.
Once Edgar uses up the supply in a category, it starts over from the beginning, giving your updates higher odds of being viewed and automatically assuring that you won't run out of updates to post.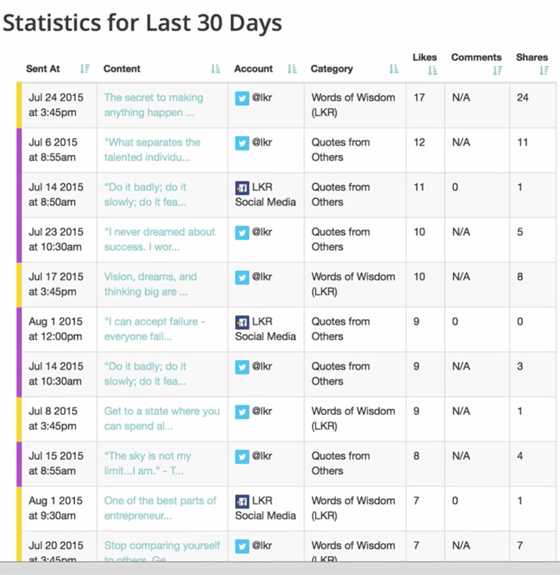 Another thing Edgar does well is provide statistics that you can use to increase the effectiveness of your social media marketing efforts.
Above, the statistics are sorted by "Likes" to show when your social media updates got the most likes. Since the "Words of Wisdom" category received 17 likes at 3:45 pm, you might want to keep posting in that category at that time every day. Once you determine which days perform best, you can cut the schedule back to reflect your findings.
Ultimately, the goal is to get your updates in front of your targeted prospects on the day and time they're most likely to see them. We all want to harness the power of social media to promote our businesses after all, to the people most interested. And with Edgar, that is surprisingly easy.
---
About VTSL
VTSL is a leading hosted communications provider, offering a an easy-to-use, full featured VoIP phone system designed for small to medium sized businesses up to 400 employees. As one of the first to market with a VoIP phone system that guaranteed voice quality in 2007, VTSL now offers a suite of unified communication products and high-speed internet connectivity for businesses who want one, quality provider for all their business communication needs. For more information on VTSL or their popular VoIP phone system, please call 020 7078.