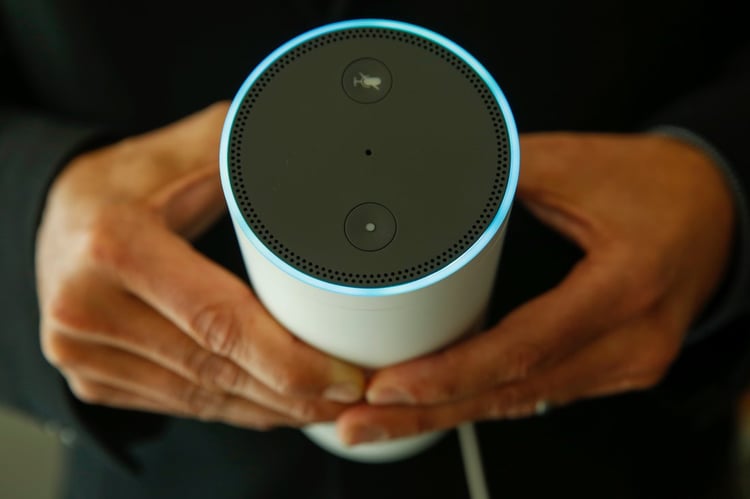 In what is seen as another blow for the traditional phone line, both Amazon and Google are reportedly investigating adding the ability to send and receive phone calls over their respective smart speakers. The capability would use voice over Internet Protocol (VoIP) technology similar to services like Skype and VTSL's business phone system.
Amazon's Echo smart speakers and Google Home can already turn on your lights, adjust your thermostat, play music, and even unlock August Smart Locks, so being able to make a phone call seems like an obvious next step.
How exactly the devices will execute the making and receiving of calls however, is yet to be determined. Amazon is considering routing phone calls through your mobile phone, but they may also invite third parties such as Skype to integrate. For Google, the obvious solution is Google Voice, which recently received an overhaul. There is also a question of emergency dialling, and privacy. Skype and other VoIP providers do not claim to provide a reliable phone system for making emergency calls—something that could be an issue if home assistant 'phones' become the only phone in one's home. Privacy is also an issue with many worried that the smart speaker would secretly record phone calls, or that law enforcement could all too easily tap these calls.
But one thing is clear, the future of the traditional phone line, both at home and at the office is bleak. VoIP provides too flexible an option, and nowadays too reliable an option, for it not to provide a better phone service to domestic and corporate users. Plus with its cost effective rates and ability to integrate into a wide range of applications (and now home assistant devices!), it is an obvious choice for most people. But the biggest reason the traditional phone line has such a bleak future, is because its future actually ends in 2025. Over the next ten years, providers across Europe will phase out Integrated Services Digital Network (ISDN) and Public Switched Telephone Networks (PSTN). And BT has decided to switch off the PSTN and ISDN (which is currently a total of 3.2 million active channels), by 2025.
So even if you don't have Amazon Echo yet, and aren't thinking of buying a home assistant at all… you should be thinking of switching to VoIP!
---
About VTSL
VTSL was one of the first to market with a reliable business VoIP telephony service that guaranteed voice quality over 10 years ago. Now as a private telecoms carrier with over 10,000 users, VTSL is able to offer a tried and tested VoIP telephone service for businesses that need a high quality system. With dozens of features included for free, easy no-cost integrations and 24/7 UK-based support, VTSL will help bring your business into the future with state-of-the-art telecoms. Find out more by calling 020 7078 3200 and speaking to one of our sales advisors today.