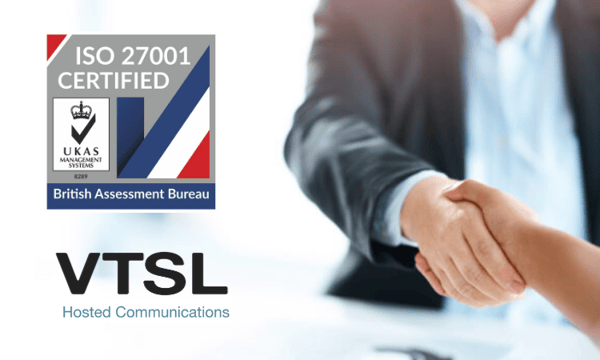 London based cloud communications company, VTSL, has achieved certification to the internationally recognised ISO 27001 standard, establishing it as one of the leaders in its field.
This independent assessment was conducted by the British Assessment Bureau, a leading Certification Body, and demonstrates VTSL's commitment to keeping data, staff and premises secure.
VTSL has now earned the right to display the coveted British Assessment Bureau quality shield and ISO 27001 logo to demonstrate its conformance to the standard.
ISO 27001 is the internationally recognised Information Security Management Standard that proves an organisation's commitment to the security of their customer, employee and shareholder's information. With ISO 27001 in place, VTSL is able to minimise risks to potential data security breaches and reduce errors and costs, while demonstrating credibility and trust.
David Walton, VTSL's Chief Financial Officer and Co-Founder said, "We're particularly pleased to have achieved ISO 27001 certification as it underlines our commitment to our customers and our focus on security. Our customers trust us to keep their data and communications safe, and our ISO 27001 certification underscores our ability to do that"
The benefits of certification to ISO 27001 include:
Proving to clients an organisation keeps their information secure
Achieve operational excellence
Minimise risk of potential data security breaches
Protects reputation
Reduces errors and costs
Increases business profitability
Engage employees
VTSL is one of the leading providers of cloud telephony, connectivity and unified communications solutions for companies across the UK and Ireland. The company was founded in 2009 by Robert and David Walton as a private telecoms carrier and ISP, offering the full range of business communications services. From fibre leased-lines and network design, to business IP phones, to CRM-telephony integration, VTSL is a boutique, as-a-service option for businesses who want to make a smarter choice. Learn more at www.vtsl.net today.
See VTSL's other Awards & Accreditation >>
View VTSL's ISO 27001 Certificate >>