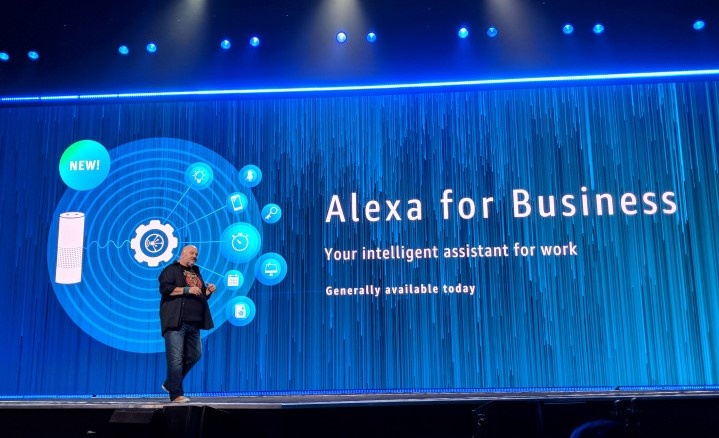 "Alexa, start my conference call."
"Alexa, turn off the lights in the office at 7 p.m."
"Alexa, schedule this room for 1 p.m."
These commands are coming to an office near you via an Amazon Web Services Alexa for Business.
Amazon CTO Werner Vogels outlined Alexa for Business at his re:Invent keynote. Vogels made the argument that voice will unlock new uses for digital systems and change the architecture of how they are constructed. AWS already has partnerships with Cisco, Polycom, Microsoft Exchange, Salesforce, SAP, Splunk and others to enable Alexa voice controls — meaning Alexa will be able to control functions in many business's existing software.
He added that devices and technology in conference rooms and desks is too complicated, and it ends up making every meeting start 10 minutes late. Using it throughout the workplace to initiate calls and meetings will resulting in more efficient working. A full list of features can be found on this page of the AWS website, but here are a few to give you a general idea.
Automatic dialling into conference calls
Assistant tools
Provisioning and management of devices
Conference room settings
User management
Skill groups
Alexa for Business is a managed service, and priced as such. AWS will charge $7 (just over £5) per shared device and $3 (£2.5) per enrolled user. So for a company that puts Echo devices in 10 conference rooms, two phone 'booths' and the lobby, and has 30 enrolled users, it would cost roughly £150 per month.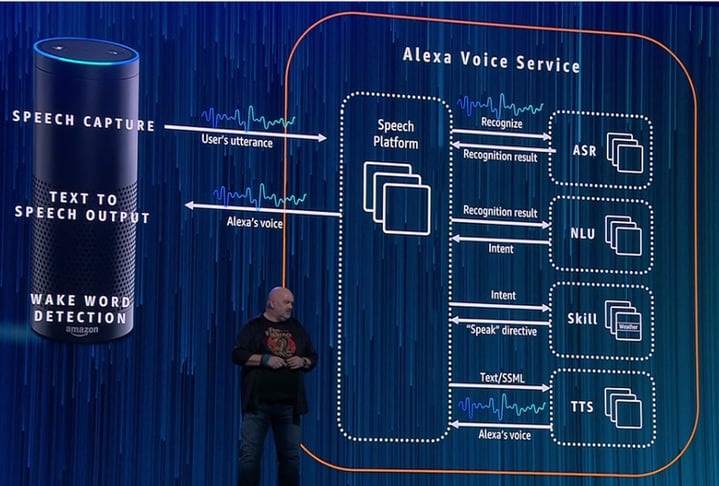 Alexa for Business will allow businesses to build their own skills that can be used in a work context. The Alexa technology was designed to be easy to use and developer friendly. WeWork for example, only needed a couple of weeks to set up the basic interface for their organisation. For meeting room bookings, lights and temperature this required a custom integration into WeWork's proprietary room booking system, which they were easily able to set up. Now, for equipment issues there is a direct integration with Zendesk to file facilities tickets automatically. Other SaaS vendors like Salesforce, ServiceNow and Splunk, as well as conferencing software like Zoom and Twine have recently launched pre-built Alexa Skills.
Alexa will also now be capable of more via AWS' artificial intelligence and machine learning platform. AWS is relentless with adding services, and launch of Amazon Transcribe, Amazon Translate, Amazon Comprehend, and Amazon Rekognition Video all will serve as a back-end to Alexa, giving her even more useful office capabilities.
We have long believed that voice recognition is the future, just as wireless technology is (and holograms for that matter). In the not too distant future, your devices won't have wires or power cords — nearly everything will be wireless — and you won't need to type or use a mouse very often. Your voice will be able to do it all. Amazon's Alexa for Business is certainly a step in that direction. And while not available in the UK quite yet, we can't wait until it is.
---
About VTSL
VTSL is a leading VoIP business phone system provider in the UK & Ireland, specialising in hosted telephony solutions for medium sized businesses. VTSL's solutions allow businesses to work smarter and faster, with integrations for CRM systems, email, browsers and more. Offering low per user monthly billing, and bespoke solutions for all clients, it is no wonder VTSL was chosen as the Best Business VoIP Provider by ITSPA. Learn more by calling 020 7078 3200 today or by clicking here for a free consultation and quote.