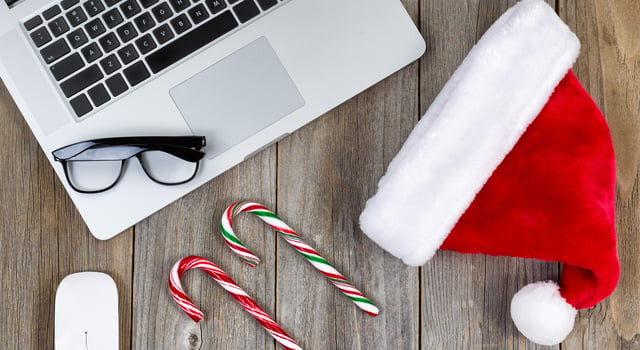 In the mad rush to finish all your Christmas shopping, get last minute projects done and clear your desk of that pesky pile of work, many of us don't think to take advantage of our cloud business phone system. Whether it is ensuring your business has someone answering the phones over the holidays or letting customers know what your Christmas hours are, a few minutes in VTSL's online web portal will have your office phone system working for you this season.
Here are 6 features of your VoIP cloud-based phone system that will help make life easier for everyone over the next few weeks.
Changing your auto attendant
More than likely, your business will have different opening hours over the holidays. Perhaps certain departments will be closed, or you need to inform customers about changes to service, shipping or returns over the Christmas period. Make sure to inform your customers by updating your auto attendant. This can be done on the VTSL web portal, or by calling VTSL's friendly customer service team on 0207 078 3200.
Call forwarding
If you are taking some additional time off this Christmas, but still have work responsibilities, you may want to forward your office calls to your mobile. Alternatively you may want to set up call forwarding for certain auto-attendant selections on days when your office is closed - for example if customers need emergency service / technicians. Call forwarding is easily done in the VTSL hosted VoIP business phone system web portal.
Holiday call group
If you have additional customer service or sales help over the holidays, make sure you add them to your existing call groups, so that their phones ring with the rest of their team's. Or perhaps you have a holiday team that needs its own call group? Call groups are easily set up by Administrators in the web portal, or by calling VTSL customer support.
Bria mobile
If you are out of the office a lot over the holiday period, but still working, you will want to get VTSL's Bria mobile app. The app allows you to use your mobile just like your office phone — you can make and receive calls from your office number. If you don't already have the Bria app set up, call VTSL and one of our technicians will walk you through set up.
Mobile Twinning
Another option for those who want to receive calls outside the office on their mobile is mobile twinning. This handy feature is easily activated in the web portal and will allow your mobile to ring simultaneously with your office phone. That way if you sneak out to do some last minute Christmas shopping, you wont miss a call.
Holiday on hold music
What better way to show your customers the holiday spirit than with some festive music! You can change your existing on hold music or messages with some Christmas tunes easily with VTSL's business VoIP phone system. Just pick your track and email it to support@vtsl.net.
---
About VTSL
VTSL is the UK's best business VoIP phone system provider for medium enterprises. VTSL offers unified communications solutions that enable businesses to work more efficiently while reducing overheads. With low per-user, per-month billing, dozens of features included for free, VTSL offers sophisticated business phone service technology at a price SMEs can afford. For more information on how VTSL can help your business communications, call 0207 078 3200 and speak to one of our business telephony experts today.