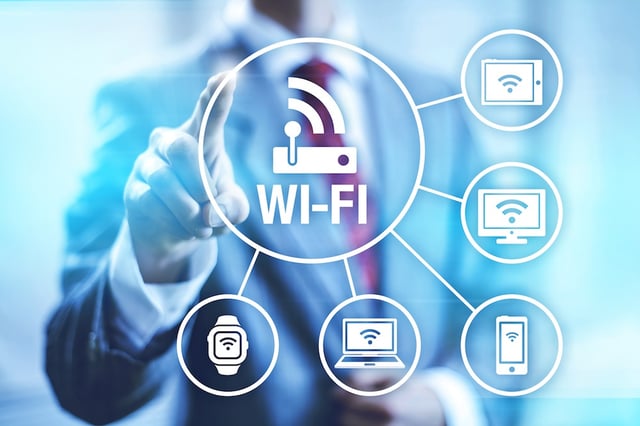 Perhaps web pages are loading slowly, or maybe your signal keeps dropping out. No matter what the issue, one thing is for certain: slow Wi-Fi can make the most patient of us very cross. This is particularly true if you use Wi-Fi for business, and you need it to function properly to get work done. Or if you use a soft phone like Bria with your VoIP business phone system, a good Wi-Fi signal is essential.
Before you begin trouble shooting however, conduct a speed test to find out exactly how slow your Wi-Fi really is. To do this simply visit a speed testing site, we like Speed Test. From there click begin and it will tell you your upload and download speed. The UK average download speed was around 22.8Mbps last year.
Once you have established that you really do have slow Wi-Fi, check to make sure one of these common problems isn't the cause of your snail's pace connection.
Your router is old
The latest Wi-Fi standard is 802.11ac. This standard (and the 802.11n) are the most desirable for fast connectivity. If your router is either 802.11b or 802.11g standard, a new router would definitely boost your Wi-Fi speed and provide a longer range of connectivity. To check, open up the Properties of your Wi-Fi connection on your PC, and then scroll down to where it says Protocol. It should say what standard you are on.
You are on the wrong channel
The day your router is set up, it automatically detects the least crowded channel and makes that its default. However, with the arrival of new neighbours or offices nearby, the situation may change. There are some great tools that will help determine whether you should change Wi-Fi channel.
Software like InSSIDer and NirSoft analyses the entire Wi-Fi spectrum and gives you details about your network as well as channel usage - meaning you can change to a less busy channel.
You are not using the 5 GHz network
The 2.4GHz frequency is crowded. Not just with neighbours using the same frequency, but also baby monitors, cordless phones, microwave ovens and more. Modern 802.11n and 802.11ac routers offer "dualband", which means they're sending two network signals; one at 2.4GHz, and one at 5GHz, which is far less crowded and offers more channels.
One drawback is that many device makers only go with the 2.4 GHz receiver. This includes all portable gaming consoles, and a range of smartphones. To get better connection, activate both networks and connect the mobile devices to the 2.4 GHz network, just enabling the 5GHz network for your laptops and desktops.
You are not limiting your router's frequency band
Sometimes you don't have the luxury of choosing the 5GHz frequency band or selecting an "empty" channel. In such cases, it may be worthwhile to limit your router to sending out signals at intervals of 20MHz. For small businesses with guest Wi-Fi, limit the guest access to 20MHz giving you and your employees a stronger signal with fewer dropouts.
You need to update your firmware
Make sure that your router's firmware is up-to-date, especially if you have a new one. Expect bandwidth, feature set and resiliency to signals to increase with the first few firmware updates. The latest firmware update can be downloaded from the manufacturer's website and is relatively simple to update (most have a helpful how-to wizard).
Your Wi-Fi adaptor / driver is not up-to-date
Sometimes a USB or built in wireless adapter/driver cannot fully communicate with your PC or laptop. Updating it could give it the push it needs to get working again. There are a few free tools to make this process easier such as Driver Talent which identifies the problem and offers the best downloadable update available for most operating systems. Mac operating systems can find software update solutions on the Apple website.
Your router is in a bad spot
Use a Wi-Fi heatmapping tool to measure the impact of distance, frequency changes and building structures on signal strength. Two tools that are great for this job are NetSpot for Mac and Heatmapper for Windows. Both tools allow you to track Wi-Fi coverage in your office or home. The more points you scan, the more exact your Wi-Fi heatmap. Once done, you end up with a map that shows you not just the signal strength but also the throughput of your Wi-Fi network.
Other people are using all the bandwidth
If you share your internet connection with people that like to download videos, stream TV shows or play online video games, you might want to consider setting up a few rules. For office Wi-Fi, check to make sure a colleague isn't downloading bandwidth-intensive content. It sounds obvious, but this is the number 1 reason we find for our clients' WiFi problems!
---
About VTSL
VTSL is the leading unified communications provider specialising in hosted VoIP business phone systems. VTSL are the only VoIP business phone system providers in the UK to offer advanced functionality on the handset itself, rather than an online portal. With VTSL you control your phone service. Add and remove extensions and features as you wish. Low per user monthly billing means you pay for just what you use. For more information about the award winning VoIP business phone system provider, call us on 020 7078 3200 today.