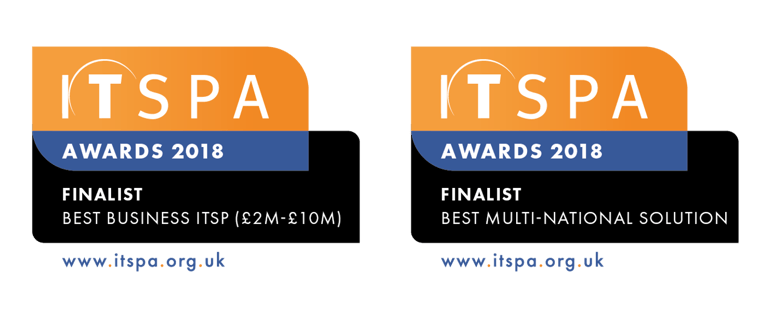 The Internet Telephony Service Providers Association (ITSPA) recently announced VTSL as finalists for two categories in the 2018 ITSPA Awards. ITSPA is the UK's leading association for the VoIP and Unified Communications industry.
VTSL has been nominated as a finalist for the Best Multi-national Solution Award and the Best Business Internet Telephony Service Provider (£2-10m). This year saw more than 50 entries across the 11 award categories, making competition tougher than ever. Applicants were required to submit written entries that highlighted their superiority in areas such as business performance, innovation and customer service. Case studies were also required, illustrating real-world examples of how applicants deliver exceptional service in their chosen category. After careful review, an independent panel of industry experts shortlisted the candidates, with a winner for each category to be announced at the awards ceremony on the 24th May at the Barbican Conservatory in Central London.
Eli Katz, Chair of the ITSPA Council commented, "I am thrilled with the strength of the finalists for this year's ITSPA Awards and it is great to see the full range of the industry's talents represented across our new, revamped categories. The shortlist of nominees at the 10th Awards acts as clear evidence of the high calibre of companies within the ITSP community and I look forward to seeing everyone on the 24th May."
This is the first time VTSL has applied for the Best Multi-national Solution award. Its award application highlighted the company's comprehensive offering in the Republic of Ireland. VTSL offers full access network capabilities in Ireland (ensuring guaranteed voice quality), supports E164 number formatting across all international regions and has recently partnered with Eir for best-in-class local breakout. International sites are unified with on-network calls, and a web portal that offers combined, comprehensive reporting for all locations. VTSL Ireland has seen 100% revenue growth year on year.
VTSL won the award for Best Business VoIP Provider (Medium Enterprise) last year, and were shortlisted as finalists in 2015 and 2016. "We are thrilled to be finalists for both the Best ITSP and Best Multi-national Solution, said Robert Walton, VTSL's CEO. "This is particularly validating for our employees, who go far beyond what is expected of them year after year – both with innovative ideas for improvement and the extra effort it takes to execute those ideas well. We know the competition is tough, and we are very honoured to be finalists again."
---
About VTSL
VTSL is a leading VoIP business phone system provider in the UK & Ireland, specialising in hosted telephony solutions for medium sized businesses. VTSL's solutions allow businesses to work smarter and faster, with integrations for CRM systems, email, browsers and more. Offering low per user monthly billing, and bespoke solutions for all clients, it is clear why VTSL was chosen as the Best Business VoIP Provider by ITSPA. Learn more by calling 020 7078 3200 today or by clicking here for a free consultation and quote.